Kamikochi Information Center, located next to Kamikochi bus terminal, provides a variety of information related to Kamikochi, such as the natural surroundings, mountain climbing, traffic, and facilities. Feel free to stop by to gather information before exploring or simply to take a rest and refresh.
A Kamikochi Ranger Station, Ministry of the Environment is located in the Kamikochi Information Center. Also, Nagano Prefecture Matsumoto Police Station Kamikochi Police Box and Mountaineering Technical Advice Center are open during the peak season.
Facility Information
Open Period:

late April through November 15 (Open every day during this period)
* Closed in winter

Hours:

8:00 ~ 17:00
Admission Free
Address:

4468 Kamikochi, Azumi, Matsumoto, Nagano 390-1516 Japan

TEL:

0263-95-2433
* Closed in winter TEL: 0263-94-2537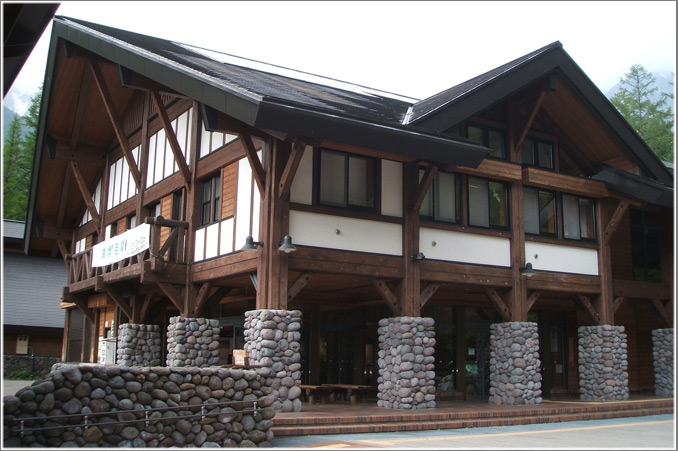 Floor Guide
- Information Counter

We are available to provide information related to Kamikochi such as weather conditions, nature, mountain climbing, traffic, and facilities. Emergency items for mountain climbing, including rain gear can be purchased here.

- Information Area

Tablets can be used to freely view a variety of content such as the newest event info, illustrated books of wildlife in Kamikochi, the history of Kamikochi, and walking course guides.

- Coin-operated Shower Room (for a fee)

Shower rooms are available to help you feel refreshed.
*Shower rooms are currently out-of-service.

- Multi-purpose Room

This room is available for various purposes such as infant nursing.

- Upstairs Gallery

A variety of events such as photo exhibitions are held.

- Free Wheelchair Rentals

Handicapped and elderly visitors are also welcome to experience Kamikochi.

- Hiking Baby Carrier Rentals

Families with small children can enjoy walking around Kamikochi as well.